Shoot your way to victory in Evoplay's new Star Guardians slots game
Star Guardians is world's first video slots game as well as a third-person shooter with complete character control.
Posted by WinVio on
The Star Guardians slot from Evoplay is the company's most expensive game to date. It is also more than just a video slot. This game is a first in the business, as it will provide you with an entirely new gaming experience: it's video slot crossed with a third-person shooter in which you have complete control over your character.
Become a member of the Special Forces Elite.
In the game, you'll be a part of the Star Guardians, a Special Forces squad battling monstrous insects known as Tritons. Your mission is to defeat the alien Queen by blasting your way through the invasion. Do you have what it takes to beat them? Each hero character has their unique set of talents and powers, and they've heeded the call to battle.
First of its kind
Third-person shooters are currently one of the most popular gaming genres, and now Evoplay has taken it a step further by incorporating it into iGaming for the first time. You may now become a hero by shooting your way to slot winnings.
You take command of the protagonist and maneuver your character forwards and backwards, left and right, and fire down targets when in manual mode. The bonus game is a chance event that may occur at any time during the main game. Tritons may drop either ammo or money, which are both greatly appreciated!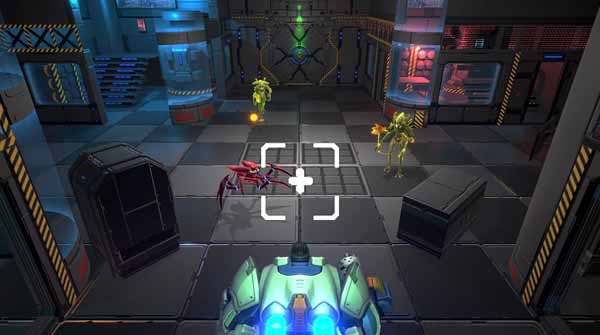 Meet the team
As you move your character right and left, or up and down, you'll have total control.
You may choose your favorite character from three available options. If you don't like the hero you're currently playing, you can change it the next time you play. Here are the three characters that make up the Star Guardians team:
Butcher comes with an active booster, so all of Butch's victories are increased by two. His physical power, multi-barreled rifle and rocket launcher could just be what you need to fend of the Tritons.
Skyler also comes with an active booster and can unlock expensive chests, even without keys! She's quick, dangerous, grenade-wielding, and has a lethal sniper rifle shot in her arsenal.
With Keliot and his active booster, you may be confident of picking up each treasure 100% of the time. His hands can emit kinetic energy, providing a lethal weapon to everyone in his path.
Are you prepared for this first in the industry? We had a feeling you were! Come on over to the Special Forces team and give it a try!