Top 3 Halloween Slots to play in October!
Posted by WinVio on
What are the most played online slots that have a Halloween theme?
October is kicking in heavily. The autumn has arrived. The nice summer breeze is swiftly leaving the British Isles, replaced by more rainfall and darker nights. The good news is though, that with darker nights, more spooky stuff is going to appear. That is, Halloween! Perhaps an American invention, the British do love Halloween and it's celebrated everywhere. Not just on the streets, but also in online casinos. So get your costume out of the closet, dress up and let's play some crazy Halloween slots, shall we? Now, the question to ask is: what is the favorite and most played Halloween slots? Which games can you play if you love Halloween themes? Let's take a look at our top 3 selected Halloween slots
The All Time Favorite Halloween Game: Blood Suckers
Not just because the payouts are fantastic at this slot game. Over 96.5%, Blood Suckers pays out huge to players! Thus, more chance of winning for you! No, to leave it at that would be too easy. Netent's Blood Suckers is a game not just loved by its willingness to pay back. It's a game full of horror characters. And its bonus games are bloody and spooky as hell! Pick coffins and don't let dracula come out! However, watch out! If you are playing with bonus at an online casino you should be careful. Bonus Wager terms may not apply to Blood Suckers, because of its high payout.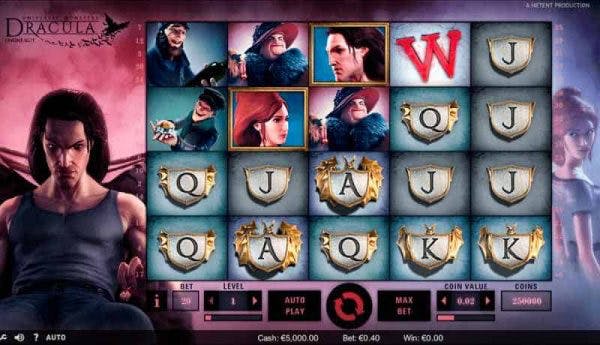 Halloween Slot #2: Dracula (Netent)
Ever wondered how Dracula can be a gift instead of a fear? Play Netent's Dracula slot game and you will find out! Awake the beast and you can win huge! Dracula is one of those games y0u can really become addicted to. You keep staring at this amazingly designed and even almost pretty Dracula character next to the slot game. Once it starts screaming, you know you are going to win, and maybe even BIG TIME!
House of Doom Slot: Play n Go's essential halloween themed slot game
Do you love the gothic style? Does it ever occur to you that all gothic styled churches and other buildings even become better in autumn? They match perfectly with the colour of the leaves and even better when they glow in the dark. Rising steep above the rainy streets, they inspire many painters. And they inspired Play n Go as well to design this slot. Well, not so much the churches, but more so the Gothic music style. Combined with a hard-rock audio background, this slot really is nerve breaking. Normally, you wouldn't welcome Skulls into your home, but here you do. At house of doom, just collect and pick skulls, and you win. Once you collect three of them, you descend deep into the dungeons of the Abyss! The three House of Doom symbols will offer you the other bonus game. So lot's of winnings to hunt!